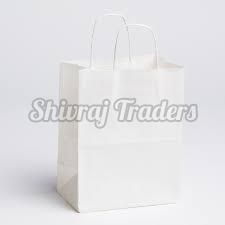 For more than decades, paper bags are already a part of commerce and distribution. Traditionally, cloth and jute bags have been used to pack items in larger amounts as it was being moved from producers or firms to retailers. Indeed, small food retailers – sweetshop operators, street food vendors, bakers, and small vegetable vendors – often use paper bags from wholesale white kraft paper bag supplier.

However, due to industrialization and the improvement of plastic packaging options with greater durability, resistance, and ability to protect goods particularly food from an external climate, the contribution of paper sacks on business and trade was gradually being limited – growing shelf life for the commodity. For the last five to six decades plastics have actually dominated the global packaging industry.

The introduction of paper sacks improves brand awareness in such a situation. Whether by government bans or constructive initiatives to attract the respect of consumers, businesses are using biodegradable packaging solutions progressively and paper bags.

Kraft Paper Bags:
The most popular foreign packaging materials are the Kraft paper bags from wholesale white kraft paper bag supplier in Mumbai, which are non-toxic, non-tasting, non-polluting, and are in compliance with national environmental standards with a high degree of strength and high environmental protection. With kraft paper production, kraft paper bags increasingly are used in supermarkets, shopping malls, restaurants, wardrobes, etc., usually kraft paper bags supply will be made available to allow consumers to buy products. Kraft's paper bag is an eco-friendly, diverse bag.


Benefits of Paper Bags:

● Bio-degradable -
For the next 1000 years, unlike plastic bags, paper bag waste will not be settled on the surface of the earth. Human beings may not end up destroying all the marine birds, rivers, lakes, and wetlands with plastic contamination for the next 1000 to 10 000 years or they do not end up sacrificing any of the resources of the land because of the top-soil plastic mix – if the planet winds from plastic to organic paper packaging. Currently, most paper bag waste takes less than 6 months to degrade and, in the majority of cases, turns fertile waste into vegetable waste.

● Recyclable -
Paper bags are typically recyclable at 100 percent. In contrast to plastic which emits extremely toxic and toxic gases in the atmosphere during the recycling process, there is no such danger in the paper recycling method. The strongest explanation of why paper bags are used. Bags of paper can be reused without waste. That is why they should support the use of the same as both a company owner and a client.

● Helpful In Conserving Natural Resources -
The great environmental advantage of paper bags is their extraction from unbleached, recycled brown paper to minimize greenhouse gas emissions and eliminate the usage of natural resources. In conclusion, there is no question now that more environmentally sustainable alternatives have to be implemented in order to save the planet. The use of paper bags is a smart way to do that. Therefore, it is high time to switch to the use of environmentally friendly paper bags.

Final Words:
The above points were concerned with the environmental advantages of using paper bags from a wholesale white kraft paper bag supplier. As mentioned at the outset, paper bags are helpful to protect your foodstuffs. Only look at some of the foodstuffs that packaging paper is helpful for.