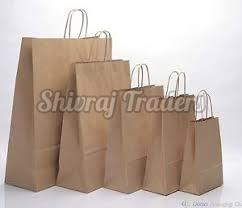 Today, more and more consumers have been attracted by Kraft paper packaging. Therefore, Kraft paper bags have become the first choice for more and more enterprises. Kraft paper bags are the Kraft paper packaging products that are very common in our day to day lives. Even big brands have also begun using sophisticated Kraft paper bags instead of plastic shopping bags. The common bags like coffee bags, cake bags, paper bags, melon seed bags, dog food bags, popcorn bags, etc. are made up of Kraft papers. Kraft paper bags are great choices because these bags are spacious, sturdy, and have attached looping handles for easy portability. These bags are the perfect alternative to traditional plastic bags.
You can find a wide range of waterproof brown Kraft paper bags in the market, made of FDA approved food-grade material. These waterproof bags come with various sizes from small to big in order to meet different food packaging or any other retail product packing requirements. These bags are moisture-proof and waterproof film laminated, which is best for packaging storage and transport. Even when these Kraft paper bags are getting contact with water, they cannot be damaged while getting wet. These Kraft paper bags make things easy to carry and store at home, workplace or at school. Many brands and restaurants widely prefer these Kraft paper bags due to their attractiveness and value for money.
• They Are Environmentally Friendly
Businesses today are finding out that being environmentally responsible is something consumers are taking into consideration more and more. Customers want the company they are buying from to show how they are contributing to the improvement of the environment, and these waterproof brown Kraft paper bags can play a big part in that. These paper bags are made of materials that are easily regrown. If these paper bags happen to be thrown away or sent to the landfill, they are biodegradable.
• Can Be More Customized
Waterproof brown Kraft paper bags have the ability to be customized. This is a valuable quality for brands those who are looking to make an impact on their product packaging. Brands can design their paper bags in many different ways. These Kraft paper bags really take well to print. These paper bags are not usually crumpled, so any branding is able to stand out clearly and be noticed by buyers. These bags are also available as pouches with windows. One can find bags with clear HD windows and dull polished windows. From a wide variety of waterproof brown Kraft paper bags, you can find bags having flat bottoms that are self-standing and easy to store. Envelop-style options are also available, which can be used simply to put items inside and can be folded over tops. These Kraft paper bags come in a variety of shapes, sizes, and thicknesses, which adds to the potential for customization.
• Useful for Branding
Particularly if you are packaging food products, the waterproof brown Kraft paper bag packaging allows you to be creative. With these Kraft paper bags, one can make use of color and fonts. They offer more versatility and durability than plastic or another packaging. These paper bags appear more sophisticated and professional. Food stays fresher when packaged in these paper bags.
One can find many waterproof brown Kraft paper bag suppliers in the market, instrumental in supplying finest quality paper bags in India. The waterproof brown Kraft paper shopping bag suppliers in India offer 100% eco-friendly shopping bags to the clientele and these offered shopping bags are ideal for apparel boutiques, stores, retail outlets. The offered wholesale waterproof brown Kraft paper bags are reasonably priced and are available in a variety of styles and sizes, with and without handles, to suit your requirements.
If you are looking for Kraft paper bags for your shop or other purposes, you can even rely on an established waterproof brown Kraft paper bag supplier in Mumbai, instrumental in providing an exhaustive range of bags and can also provide customized options according to your need and budget.